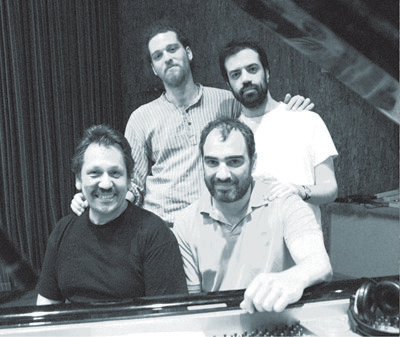 "Hovering,
we cite the place,
where the prayer met the toil
the life over and under the clouds
so as not to get lost."

Nikos Sidirokastritis
Harris Lambrakis Quartet was formed in 2006 by Nikos Sidirokastritis (drums), Dimitris Theocharis (piano), Alekos Para- skevopoulos (bass) and Harris Lambrakis (ney).
They began playing in various venues in Athens, Greece such as Parafono Jazz Club, Café Alavastron etc. Later, Alekos Paraskevopoulos was replaced by Lydios Damis and 2007 the band recorded their first CD titled Théa at Sierra studios (sound engineer: Giorgos Karyotis, released in 2010 as an independent production).
When Lydios Damis moved to England, Chrysostomos Boukalis entered the group. Later, Dimitris Tsekouras replaced him on doublebass and all together recorded in 2011 (again with George Karyotis) their second CD entitled Metéora. In this production three close friends of the band are also participating: Κostas Tatsakis (drums), Andrea Romani (flute) and Nikolas Skordas (soprano saxophone).
The group has performed in music stages and festivals throughout Greece and Cyprus such as Parafono Jazz Club, Dizzy Miles, Café Alavastron, Avlea Music Stage, Duente (Larissa), Moni Lazariston (Thessaloniki), Castelliotissa (Nicosia, Cyrus), Onassis Cultural Centre (1st Greek Jazz Panorama), 12th European Jazz Festival Athens (Technopolis, 2012 / HLQ received the Critics Award), 1st Jazz Festival Kalamata Tinos Jazz Festival, Zakynthos Jazz Festival (Zante Jazz Festival), Festival Axiothea - University of Cyprus (Nicosia).
The group is inspired from different genres of music; modal jazz, Greek music, modal music of the Eastern Mediterranean, jazz harmonies of the 1960s and improvisational music.
Currently, Harris Lambrakis Quartet continues working and collecting material for their next album.